Archive for May, 2011
May 15, 2011

The Badger Trust is calling on the Welsh Assembly Government to reconsider the Order made by the previous administration to kill badgers as part of a programme to control bovine tuberculosis (bTB). The Trust's solicitors have been instructed to seek the views of members of the new Government in Wales including newly appointed Minister for the Environment, John Griffiths. The Trust has also asked for an urgent reply because if there were not to be a pause, at the very least, in the killing programme, it would need to proceed with legal action next week.
Read the full report. . .
May 13, 2011

Industry accused of "shocking own goal" whilst blaming badgers for TB
APPALLING biosecurity lapses have been filmed at three Welsh livestock markets in an area suffering from widespread TB infections in cattle.
Following the recent elections, Animal group Viva! – which has thousands of supporters in Wales – is urging the Welsh Assembly to drop plans to kill badgers in what the group believes is a misguided attempt to control bovine TB. Link to You Tube footage below…
Read the full report. . .
May 12, 2011

He says that badgers have 'increased enormously' since 1973 and yet 'the disease takes an unfettered progress in badgers'. He can't have it both ways; when badgers contract bTB they become ill and die, they do not 'increase enormously'.
Read the full report. . .
May 2, 2011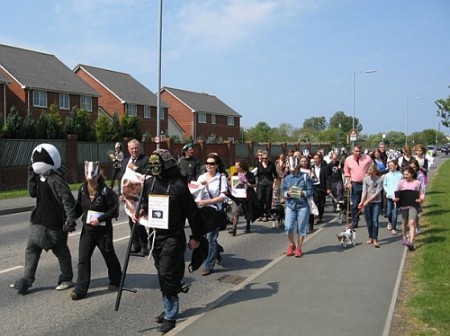 There was blazing sun in Aberystwyth as the Funeral Procession organised by Aberystwyth Against the Cull to show opposition to the badger cull wound its way through the town centre and along the main road to the WAG building.  Headed by a Grim Reaper complete with scythe alongside a large Badger and with a police escort - the procession provoked plenty […]
Read the full report. . .